In a small group decide for each of the following aspects of life where you think you would be in terms of:
A. The 10% which is most deprived (worst off).
B. Between 20%-10% which is the next most deprived (worst off).
C. Between 30%-20% which is the next most deprived (worst off).
D. Between 40%-50% which is the next most deprived (worst off).
E. The 50% (Half) of Wales that is least deprived. 
1. Income
2. Employment
3. Health
4. Education
5. Access to Services
6. Community Safety
7. Physical Environment
8. Housing 
Just give each aspect (1-8) a score from A (lowest) to E (highest).
Recently with the General election many of us have been told that we are doing badly where we live in Wales.
We are the working poor or JAM's (Just About Managing).
We see that others are much richer than us; whether it is 'The Rich Kids on Instagram' or 'The Real Housewives of Abercwmbucket' we know that we have it hard compared to the rest of the world; Yes or No?
Deprivation
Deprivation means not having things.
The aspects that you just looked at in the starter are:

These ae the 'domains' that make up the Wales Index of Multiple Deprivation or WIMD for short.
Many of us go through life believing that we are poor because we live close by to rich people and we compare ourselves to them.
The United Kingdom is (depending on how we measure it) the fifth or sixth richest country in the world.
We are only ever amongst the poorest of one of the richest nations on Earth.
Sometimes it is hard to know how much we actually have especially when you look at other people in Wales.
One thing that you will learn when you look at Wales is that there are no simple answers as often the poorest live right next door to the richest in Wales.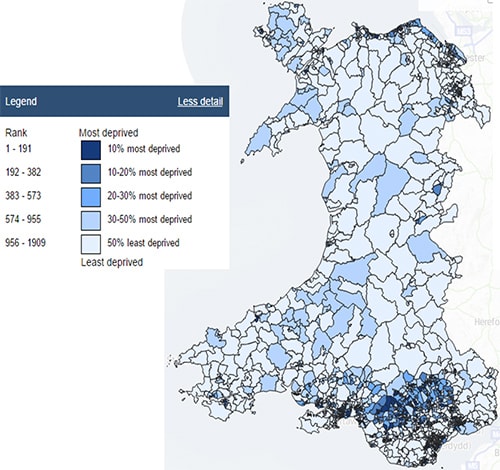 When you visit the StatsWales website you can zoom into small areas (LSOA are just small areas that have a population of between 1000 and 1500 people) on an OS map and find out lots of different things about places.
Use the StatsWales maps to find out all about the different places in Wales and see if things you believe are actually true; such as:
The South is the richest.
People who live in rural (countryside) areas are the poorest.
Everyone in Cardiff is rich.
You can investigate your local area soon but below is an example of what you can find out; this is for Rhyl (South West).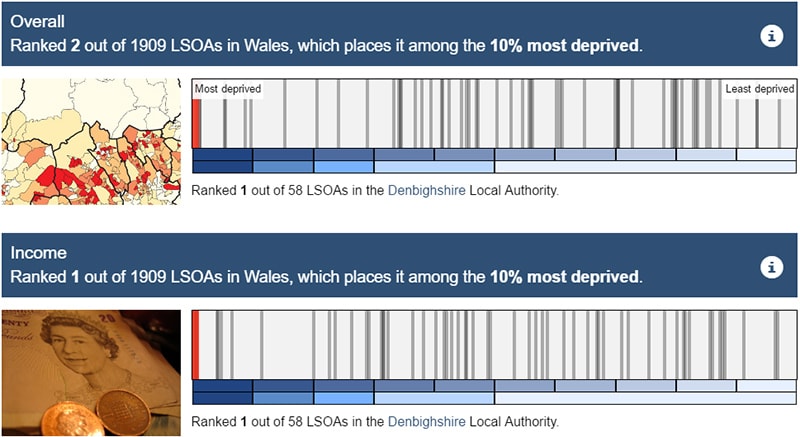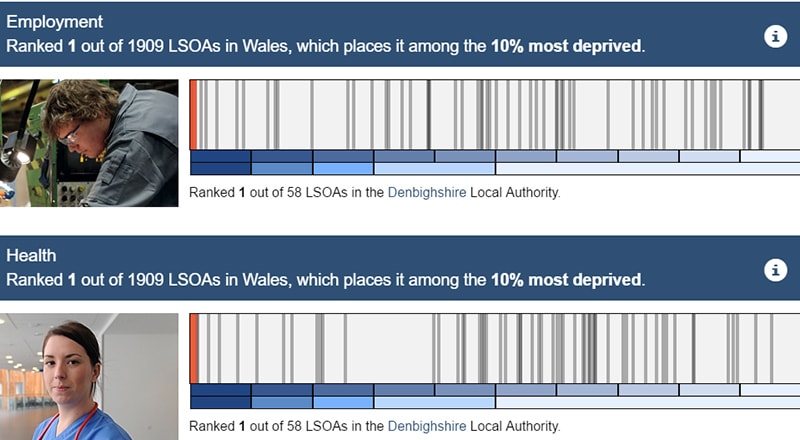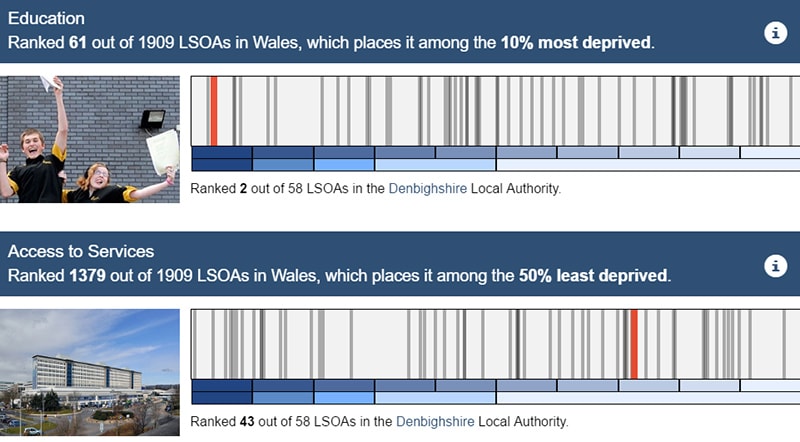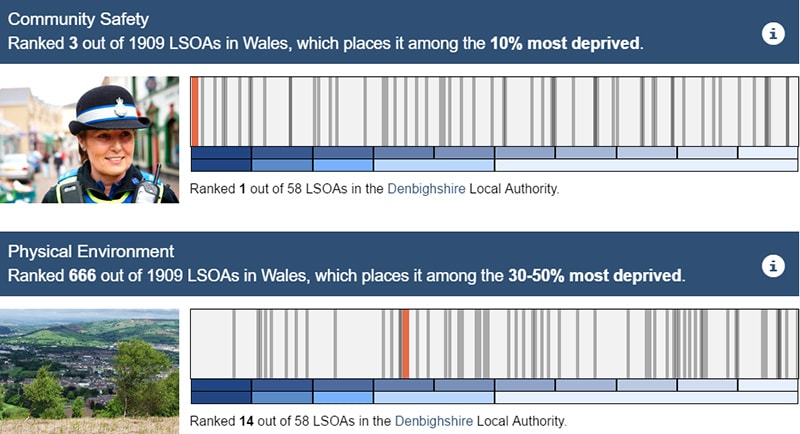 On the interactive maps you can also find a summary for each region such as this one for Rhyl South West which gives a quick position.

Remember what we said earlier that the most deprived are often close to the least deprived:

Check out the following locations below.
Llandudno


Anglesey


Cardigan


Pembroke Dock


Swansea

Merthyr Tydfil


The Valleys


Newport


Cardiff


Student Activity
1. Rank each of the hotspot locations from 1 most deprived area to 9 least deprived.
2. Based on what you have seen so far rank the regions of Wales from 1 most deprived to 4 least deprived.
3. Are you able to do this easily? If not explain why not?
After reading all three articles and carrying out the activities. Use the accompanying A3 sheet to complete a DME into how rich we are in Wales?

Complete the DME activity sheet - Click below