The Arab Spring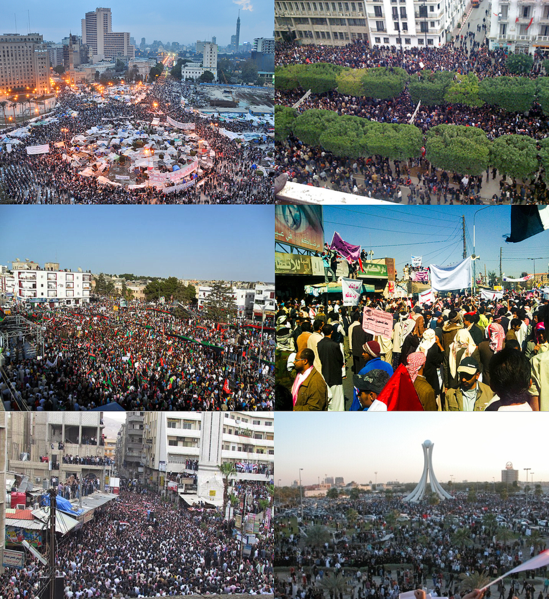 Image: A collage for MENA protests - User:ليبي صح">ليبي © Creative Commons Attribution-Share Alike 3.0 Unported license
The

Arab Spring

 was a wave of protests and riots that began in December 2010 in Tunisia.
It spread through many  other countries.
By February 2012 rulers had been forced from Tunisia, Egypt, Libya, and Yemen.
Uprisings had occurred in many other countries.
Celebrations in Cairo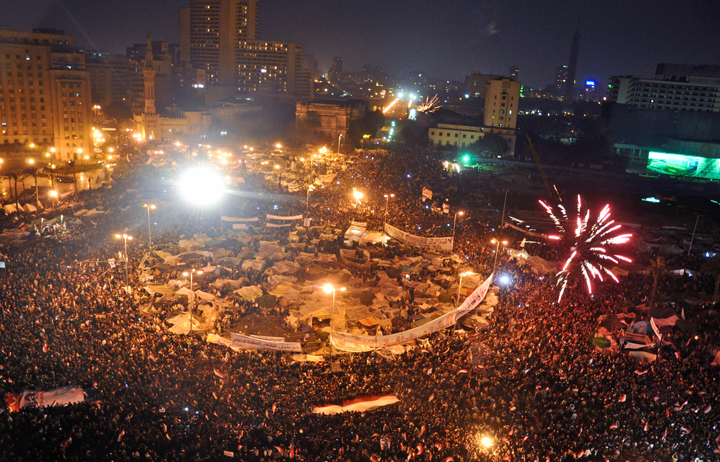 Image: Celebrations in Tahrir Square after Omar Soliman's statement that concerns Mubarak's resignation. February 11, 2011 - Jonathan Rashad © Creative Commons Attribution 2.0 Generic license
Sadly in many areas the hopeful Arab Spring has turned into an awful Arab Winter.
In West Africa a terrorist group called Boko Haram has taken control of parts of Nigeria and neighbouring border areas. Boko Haram has become part of so called Islamic state/ISIL. 
2.3 million people have been

displaced

 by the Boko Haram conflict since May 2013.
250,000 have fled Nigeria into Cameroon, Chad or Niger.
The group have carried out mass abductions including kidnapping 276 schoolgirls from Chibok in April 2014.
Michelle Obama remembering the Chibok girls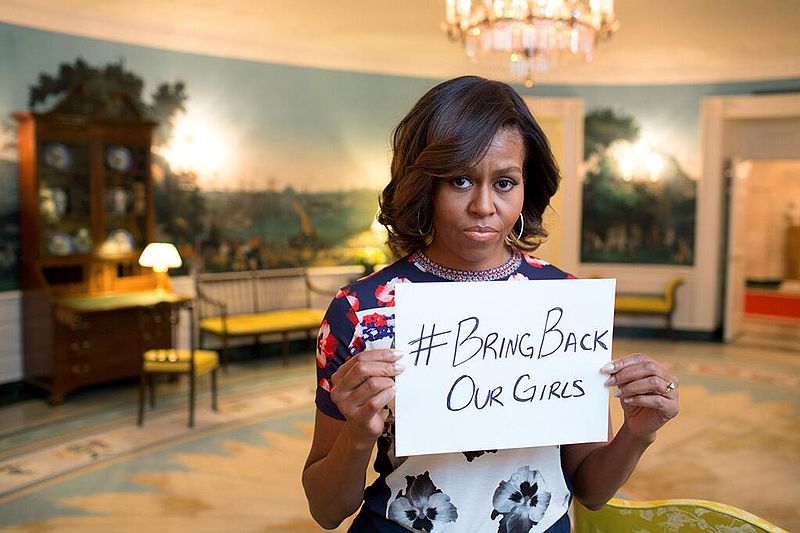 Image: First Lady Michelle Obama holding a sign with the hashtag "#bringbackourgirls" in support of the 2014 Chibok kidnapping. Posted to the FLOTUS Twitter account on May 7, 2014. - Michelle Obama, Office of the First Lady © Public Domain
Libya
Libya in North Africa has become one of the worst places since the Arab Spring.
Libya had been controlled by a ruthless

dictator

 – President Gaddafi since 1969. 
President Gaddafi had openly supported many international

terrorist

 groups including the IRA.
Libya was involved in terrorist attacks including bombing a passenger jet plane over Scotland.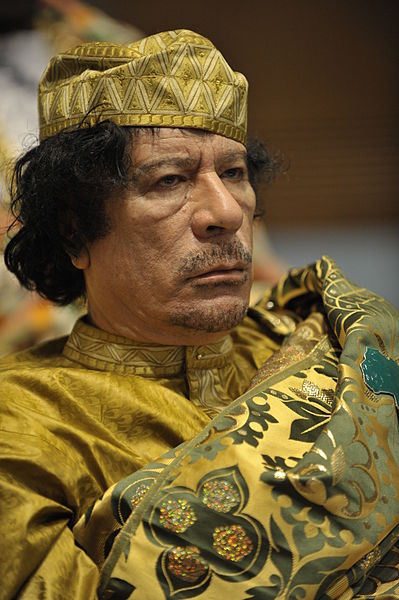 Image: Muammar al-Gaddafi at the 12th AU summit, February 2, 2009, in Addis Abeba. - U.S. Navy photo by Mass Communication Specialist 2nd Class Jesse B. Awalt/Released © Public Domain
In 2011

opposition

 groups began a

civil war

 against Gaddafi.

At first these groups were defeated by the superior military power of the government especially its air forces.
However many innocent

civilians

 were caught up in the fighting especially from the air.
The

United Nations

 authorised member states to take action to protect civilians.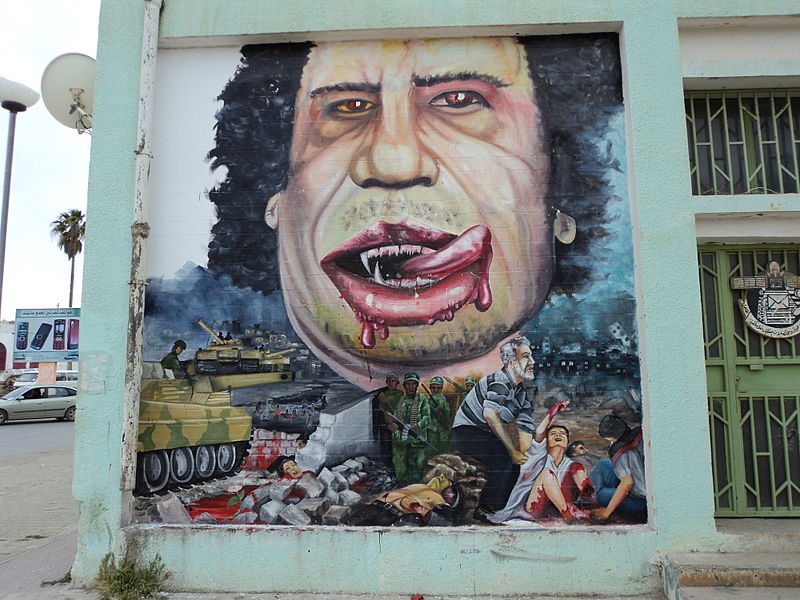 Image: Caricatures of Gadafi in old square, Street Al Oroba, Al Bayda - User:ليبي_صح © Creative Commons CC0 1.0 Universal Public Domain Dedication
An international

coalition

 including the UK provided air support and weapons to the rebels.
In October 2011 Gaddafi and his senior leaders/close family members were killed.
The
Arab Winter
After 2011 things became worse in Libya.
Rival groups could not agree a new government.
Now six different groups control different parts of Libya with constant fighting taking place. 
A major source of money for these groups is people trafficking of refugees to Europe. 
Many refugees suffer abuse at the hands of traffickers being forced into slave labour or into fighting for groups if they cannot afford to pay.
Libya is a major people smuggling centre for:
North Africa.
Iraq
Syria.
West Africans driven out by violence extremists such as Boko Haram.
East Africans from:

Somalia devastated by the extremist group

al-Shabaab

 which is linked to al-Qaeda.
Eritrea which has bad human rights abuses and supports al-Shabaab.
Sudan & South Sudan which have both suffered from civil war and government abuses. 
Libya has become a lawless place with many groups fighting for control. 
One area is even being controlled by a Libyan branch of so called Islamic State/ISIL.

Image: Libyan Civil War - John Smith © Creative Commons Attribution 3.0 Unported license