Unblocking the problem
In this edition of Geography in the News we have been looking at the sewage and wastewater system in the UK.
The UK's population is over 62 million people. Dealing with the trillions of litres of wastewater and keeping the sewage flowing costs hundreds of millions of pounds. But misuse of the sewers by people and organisations can cause severe blockages.
In this article we will look at some initiatives and developments in waterwaste disposal that may help to unblock the problem... 
---
1. Sewer psychology – changing human behaviour
Politicians like to talk about how important education is and why their ideas will make all the difference to how students learn.
Well, water companies have to come up with ideas of their own. Almost all of the water and sewage companies in the UK are trying to teach people that flushing and pouring away things that shouldn't be put into the sewers causes blockages and cost a lot of money.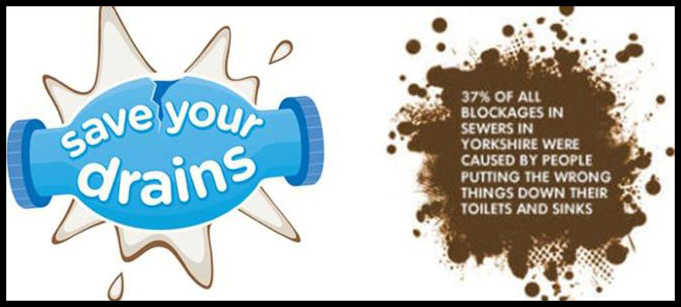 Have a look at the links below to see some examples of these campaigns:
There are links to all of the UK sewage companies at the bottom of this page for you to use later.
Let's Stop the Block
In April 2013 Dŵr Cymru/Welsh Water launched their 'Let's Stop the Block' campaign which encouraged customers to take a pledge to dispose properly of waste that might block drains and sewers. (Taking the pledge before 31st Dec 2013 enters sustomers into a draw to win science equipment for a school of their choice so mention it to your parents and teachers).
Watch the video below to find out more then click on the picture below to visit the Let's Stop the Block interactive webpage.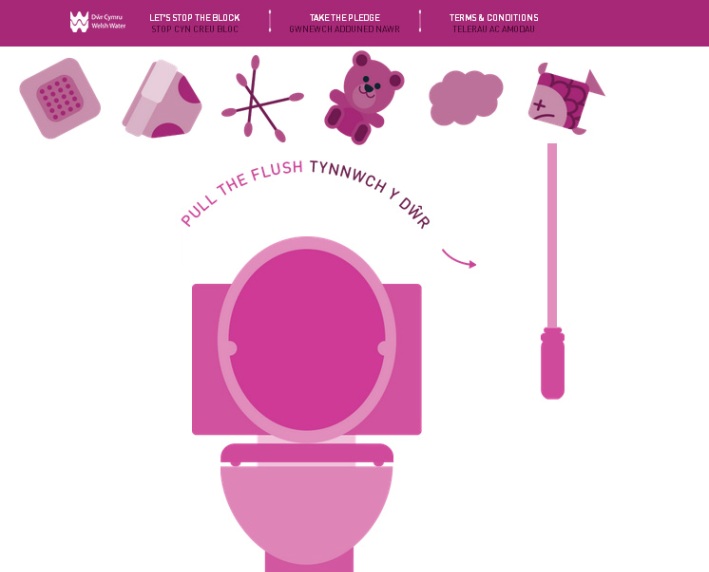 Water companies also work to raise awareness about commercial and industrial wastewater. Dŵr Cymru/Welsh Water provides information and advice for food businesses on disposing of fats, oil and grease.
Advice regarding agricultural and industrial waste is more technical and guidance is provided by organisations like Water UK, the Environment Agency and DEFRA. 
---
2. Robot flushers
Sewers are inspected to check for problems or blockages and help the water companies plan maintenance and repairs. Most sewer pipes are not large enough for a person to enter, so the flushers use high pressure water jets and suction hoses to remove blockages.
To inspect the sewage system, small infrared cameras are pushed along the pipes. Over the last few years robots have been developed to do the same job. They work on their own and are able to enter pipes as narrow as 20cm diameter. Have a look at the video below to find out more.
3. Reduce, reuse, recycle...
Robot flushers and awareness campaigns are good, but how about initiatives that might reduce the amount of fat and oil that needs to be thrown away?
Oils and fats that are used to cook contain large amounts of energy, just like the oil used to make petrol and diesel.
Some companies are now looking at ways to reuse cooking fats so that they can spend less on conventional fuels and reduce carbon dioxide emissions from fossil fuels.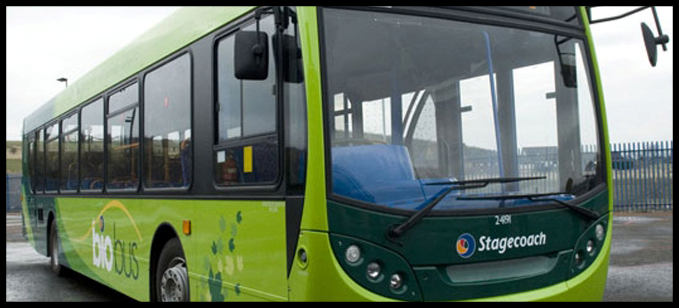 Greener fuels and cooking oil powered BioBuses (c) Stagecoach
Bus, Coach and Train company Stagecoach have been running the UK's first 'BioBuses' in Kilmarnock, Scotland. The coaches start up using normal diesel then switch to fuel made from cooking oil and other food-industry by-products.
As part of the scheme, passengers are encouraged to recycle their own domestic cooking fats and oils in return for reduced price travel.
It's not just buses... McDonalds delivery trucks are now run on recycled cooking oil from their kitchens, and a few years ago a passenger jet was flown using a mixture of cooking oil and normal jet fuel. 
---
4. Lightening the load...
"We're putting too much clean surface water run-off into the network, where it becomes contaminated with sewage before it seeps out again" - Fergus O'Brien, Dŵr Cymru/Welsh Water
As we saw in the last article, excessive surface runoff can cause disaster. Water companies look for ways to reduce the load on the system by stopping rainwater from entering the system.
In 2013, Dŵr Cymru/Welsh Water launched a £15 million project to manage rainwater flow in Llanelli. The project is called RainScape and uses trees, grass and other planted areas to remove surface water from the network of sewers in the town.
The first phase has begun, with a large landscaped channel on the playing fields at Queen Mary's Walk which are often waterlogged.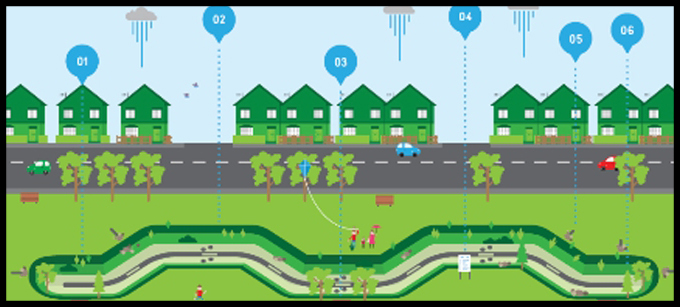 Diagram of the RainScape scheme at Queen Mary's Walk, Llanelli (c) Dŵr Cymru/Welsh Water
Key:
01. Areas for planting

02. Gravel drainage channel

03. Benches

04. Information Board

05. Outfall

06. Proposed Trees (Birch, Poplar, Alder)
The project takes inspiration from similar schemes in Sweden and will continue during 2013-2014 with various basins and channels containing trees and grass being built on the town's road network.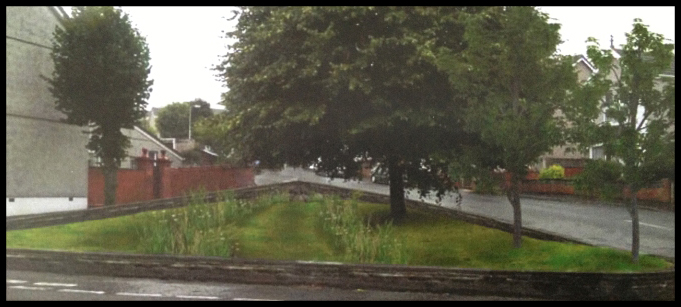 An example of a roadside basin (c) Dŵr Cymru/Welsh Water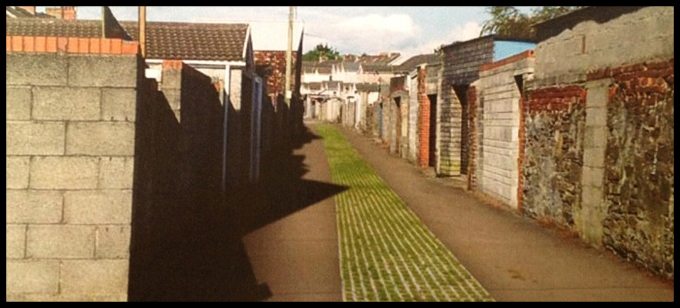 An example of a grass channel (c) Dŵr Cymru/Welsh Water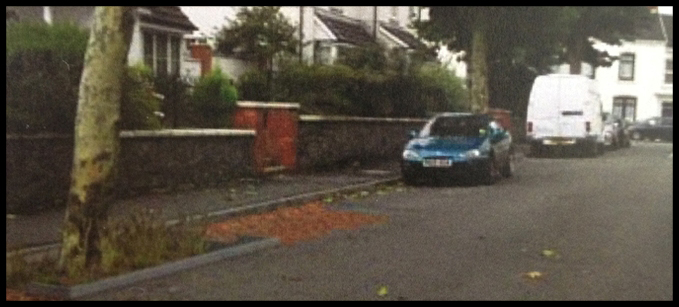 A roadside planter to reduce surface water runoff (c) Dŵr Cymru/Welsh Water
RainScape Llanelli is an alternative to the traditional method of managing surface water runoff by building large concrete tanks and structures to hold back the water.
The town receives so much rainwater each year that the tanks would have to be the size of 200 Olympic sized swimming pools! 
---
Just the beginning
The schemes mentioned above are just a few example of the practical action that water and sewage companies in the UK are taking to ensure that the sewer system works now and will be able to deal with future needs. 
---