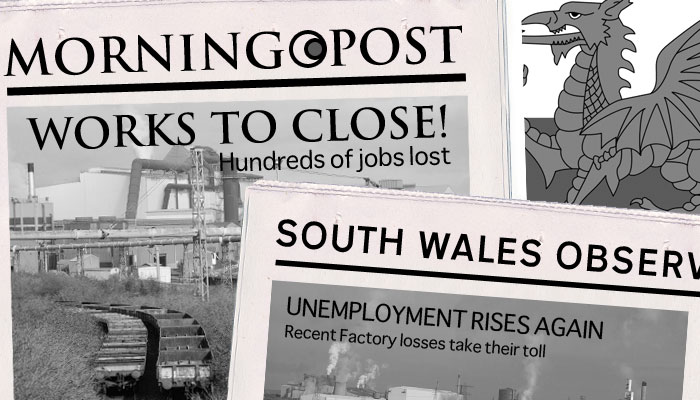 The geographical location and characteristics of Wales means that it will always be on the periphery of the European Union. Of course there are areas of the British Isles that are more peripheral like Ireland and Northern Scotland but the reasons for Wales being on the edge are, unfortunately, many.
Wales is on the 'wrong' - western side of the UK for easy access to mainland Europe

A distance of about 300km has to be travelled by road or rail even to get to the Dover and the Channel tunnel

English industrial and market locations like Manchester, Birmingham, Bristol and London are easier targets for economic activity, on the Way to Wales.

The Welsh population is small compared with many other EU locations

The Beautiful Landscape of Wales makes communications more difficult than the many flat, lowland areas in Europe

Wales's historically important industries, like steel, coal, farming and fishing have declined and there is a need to encourage new indusrial development, rather than assuming it will happen naturally.
All this Geography could work against Wales at time of economic uncertainty so what is being done to support growth in Wales?
Let's start with an Wales Business quiz to test your knowledge!
Economic planners have to chose particular locations that they hope will have the right characteristics to attract new industry and start off the multiplier effect. They have started with five themed locations but hope that discussions with other local authorities and industrial partners may bring about more enterprise zones.
Here they are on the map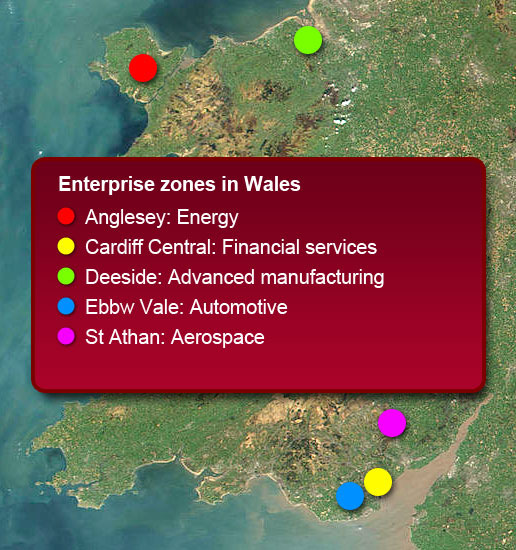 £10,000000 has been allocated to start the zones off.
The idea that these will attract new industry into Wales , but the sum of money , when split up is not very great and also there is a risk that industry will just move around in Wales so that the actual number of jobs does not change that much. In addition England is setting up enterprise zones so there is a strong competition between zones. The Welsh Government is being urged to finalise its plans for enterprise zones with fears those in England may attract businesses away from Wales. Some of the zones designated in England are close to the border with Wales including sites in Bristol, Birmingham and The Wirral, near Liverpool, 10 miles from the Welsh border.
Northern Gateway project is on Deeside in N E Wales. A multimillion-pound master plan is to turn Flintshire's old RAF Sealand site into a major housing, retail and commercial park Plans include 1,100 houses, 50,000 sq ft of retail space and community and leisure facilities.
The developers hope it will attract investment to the area over the next 10 years and be the county's main employment site for the next 15 years.