Hurricane Season
At the end of last summer the team here at Geography In The News were just finishing our last edition on climate change in Wales and another rainy summer.
We started to look at the role of low air pressure and we wrote that this edition would be all about low air pressure in the news.
As Geographers we knew in advance that low air pressure was going to be big, big news this Autumn!
The big weather based news stories each year are based on the lowest air pressures recorded each year – Tropical Storms – and their regional names – Hurricanes, Cyclones and Typhoons.
A hurricane is a tropical cyclone that occurs in the Atlantic Ocean and N.E. Pacific Ocean.
A typhoon occurs in the N.W. Pacific Ocean.
A cyclone occurs in the south Pacific or Indian Ocean.
Ocean Basin Storm Seasons
Basin

Season
starts

Season
ends

North Atlantic

June 1

November 30

Eastern Pacific

May 15

November 30

Western Pacific

January 1

December 31

North Indian

January 1

December 31

South-West Indian

July 1

June 30

Australian region

November 1

April 30

Southern Pacific

November 1

April 30
Of course storms form all year round so how can we have 'seasons'?
In tropical regions there are three categories of storms (there can be some local slight variations in some countries but most use the American Hurricane definitions) –
Tropical Depression with maximum sustained winds of 38 mph (62 km/hr).
Tropical Storm with Maximum sustained winds between 39 mph (63 km/hr) and 73 mph (119 km/hr). Tropical storms are also given names.
Above 74 mph (120 km/hr) tropical storms are named Hurricanes, Typhoons or Cyclones).
The system of classification (Saffir-Simpson Scale) of Tropical Storms will be looked at in the linked articles. In the main article we are going to look at the record breaking Hurricane Season of 2017.
2017 Atlantic Hurricane Season
Please remember that this edition is written in the first half of October; seven weeks before the normal end of the Atlantic Hurricane season at the end of November.
In the next linked article we will look at how hurricanes form in detail.
2017 Atlantic Named Storms (until 10th October)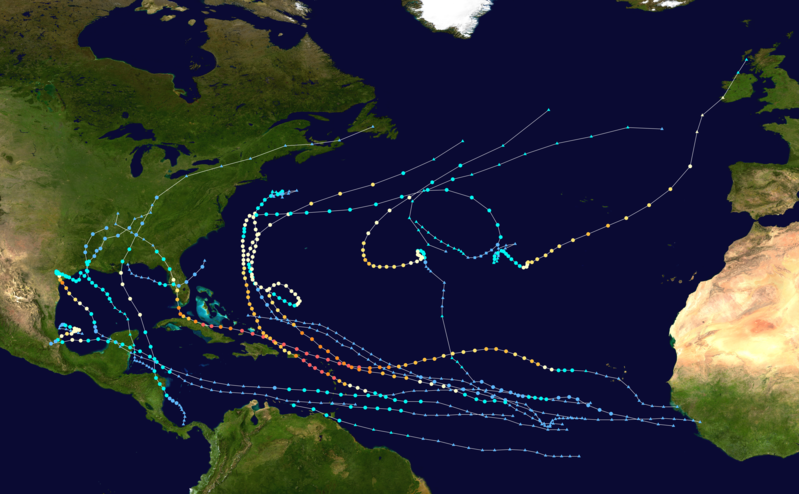 Image: 2017 Atlantic hurricane season summary map - Cyclonebiskit © Wikimedia Commons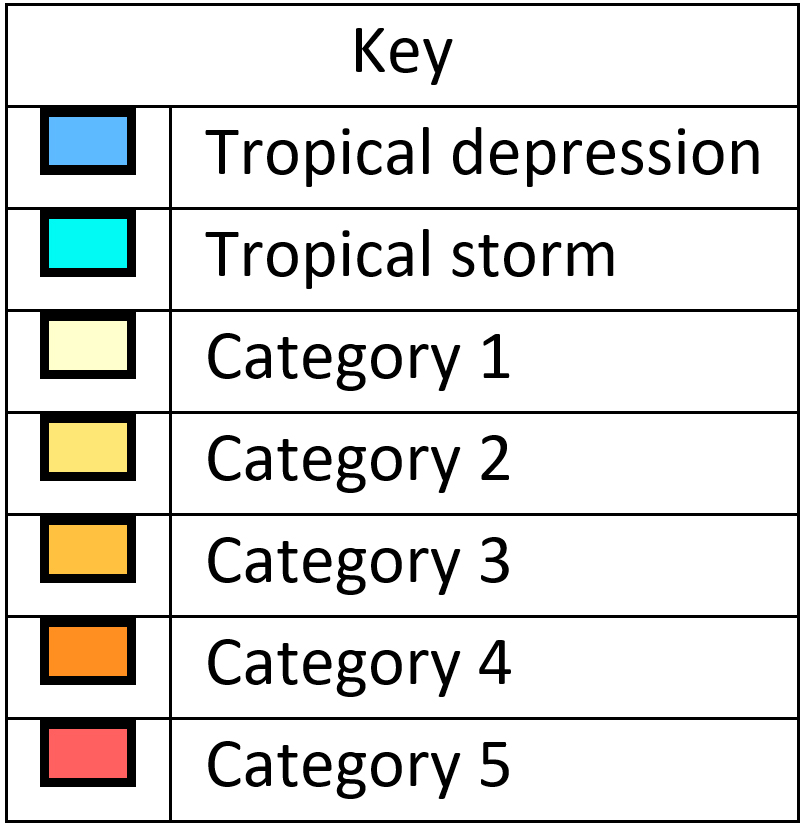 Tropical Storm Arlene - April
Tropical Storm Bret - June
Tropical Storm Cindy - June
Tropical Storm Don- July
Tropical Storm Emily – July/Aug
Hurricane Franklin – Aug (Category 1)
Hurricane Gert – Aug (Category 2)
Hurricane Harvey - Aug/Sept (Category 4)
Hurricane Irma - Aug/Sept (Category 5)
Hurricane Jose – Sept (Category 4)
Hurricane Katia – Sept (Category 2)
Hurricane Lee – Sept (Category 3)
Hurricane Maria – Sept (Category 5)
Hurricane Nate – Oct (Category 1)
Tropical Storm Ophelia - Oct
The official Atlantic Hurricane season begins on June 1st but activity started early (April) for the 3rd consecutive year.
Tropical storms and hurricanes form over warm (27˚C+) ocean surfaces; this normally used to happen after the start of June as the summer warmed the ocean surfaces.
Can you think of a reason why things might be changing?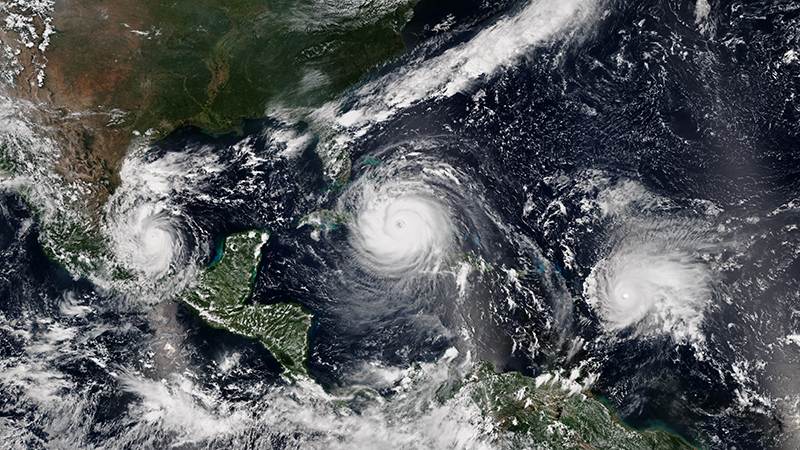 Image: Katia, Irma, Jose 2017-09-08 1745Z–1935Z © Wikimedia Commons
A rare sight three Hurricanes (Katia, Irma & Jose) at one time.
Remember at the time of writing there are still 7 weeks to go until the end of the 'normal' hurricane season but already:
The season has already featured five major hurricanes.

The highest number since 2010.

It is already the most costly hurricane season on record.
It is already the most accumulated cyclone energy (ACE) since 2005.
2017 is one of only six years to feature multiple Category 5 hurricanes.
2017 is only the second season on record to feature two hurricanes making landfall at Category 5 intensity.
Irma was the strongest hurricane ever recorded to form in the Atlantic Ocean.
The season featured the wettest tropical cyclone ever to make landfall in the US (Harvey) and the fastest tropical cyclone ever recorded in the Gulf of Mexico (Nate).
T

he 2017 season is also the first season to have four hurricanes make landfall in the United States (Harvey, Irma, Maria, and Nate) since 2005.
Irma 5th September as Irma approached the British Virgin Islands on the 6th.
Video: https://commons.wikimedia.org/wiki/File:Hurricane_Irma_5_September_GOES_Floater_Rainbow_IR_view.gif
Virgin Islands group before and after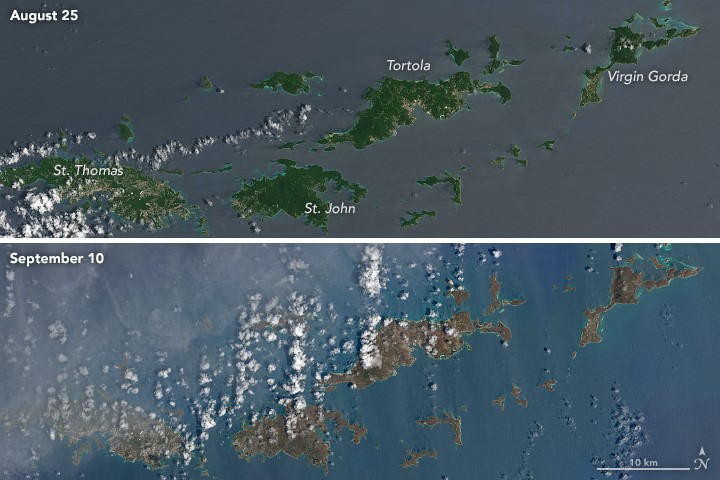 Image: Hurricane Irma turns Virgin Islands brown © Wikimedia Commons
Records
When Irma reached Category 5 intensity September 5th it became the easternmost Atlantic hurricane of this strength on record.
On September 6, Irma reached peak intensity with 185 mph (295 km/h) winds and a minimum pressure of 914 mbar.

This ties it as the second-strongest Atlantic hurricane by wind speed.

Irma sustained the 185 mph (295 km/h) winds for 37 hours, becoming the only tropical cyclone worldwide to have had winds that speed for more than 24 hours.
Only four other Atlantic hurricanes have been recorded with wind speeds of 185 mph (295 km/h) or higher:
Irma achieved one of the longest durations of Category 5 strength winds.
Deaths & Estimated Damage By Territory

Territory

Fatalities

Damage
(USD)

Anguilla (UK)

1

$290 million

Barbados

1

N/A

Barbuda (AG)

3

$215 million

British Virgin Islands (UK)

4

$1.4 billion

Cuba

10

$2.2 billion

Haiti

1

N/A

Puerto Rico (US)

3

$1 billion

Saint Kitts and Nevis

0

$19.7 million

Saint Martin and Saint Barthélemy (FR)

11

$2.28 billion

Sint Maarten (NL)

4

$2.5 billion

Turks and Caicos Islands (UK)

0

> $500 million

United States

88

> $50 billion

U.S. Virgin Islands

4

$2.4 billion

Unknown

2

N/A

Totals:

132

> $62.9 billion
Hurricane devastation on the island of Sint Maarten (Netherlands territory).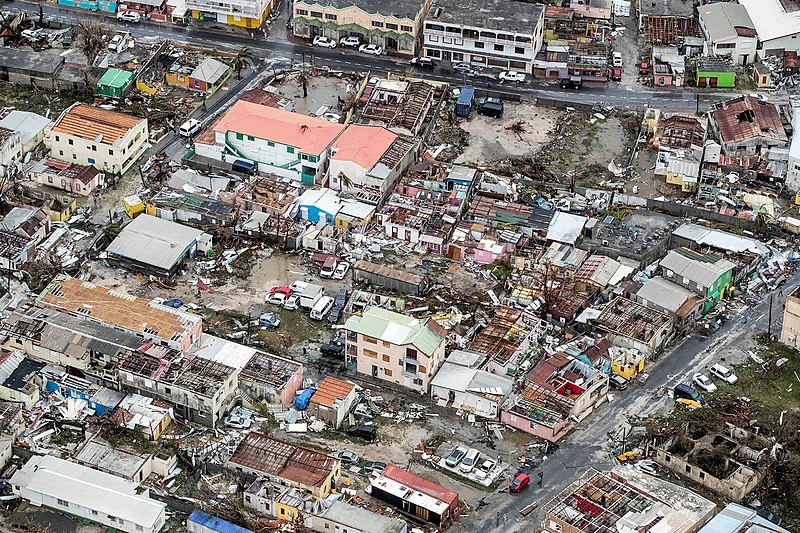 Image: Hurricane Irma on Sint Maarten (NL) 05 © Wikimedia Commons
Deaths and damage by territory

Territory

Fatalities

Missing

Damage (USD)

Dominica

30

>50

>$1 billion

Dominican Republic

5

1

>$63 million

Guadeloupe (France)

2

2

$120 million

Haiti

3

0

N/A

Martinique (France)

0

0

N/A

Saint Kitts and Nevis

0

0

$13 million

Puerto Rico (US)

36

>30

$50 billion

($90 billion by Governor)

United States Virgin Islands (US)

1

0

N/A

United States (US)

4

0

N/A

Totals:

81

>83

>$51.2 billion
Puerto Rico at night – before and after.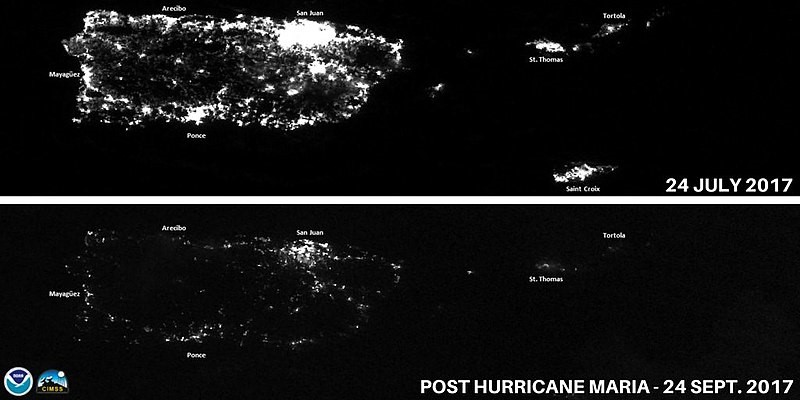 Image: Puerto Rico at night before and after Hurricane Maria © Wikimedia Commons
The Governor of Puerto Rico estimates the cost of repairs at $90 billion USD.
Part of Dominica
Image: Hurricane Maria destruction along Roseau road © Wikimedia Commons
Hurricane Ophelia became the easternmost Atlantic category 3 hurricane on record.
Tropical Storm Ophelia became a hurricane on 11 October.
Ophelia unexpectedly intensified into a category 3 hurricane on 14 October brushing the Azores with high winds and heavy rainfall.
Unexpectedly and unusually Ophelia headed East wards (and northwards) towards the United Kingdom and the Republic of Ireland.
Ireland suffered a direct hit with Storm Ophelia being the strongest storm to hit Ireland in half a century. Parts of Wales also suffered significant disruption despite not being hit by the centre of the storm.
As of 21 October, at least 51 deaths have been attributed to Ophelia and its remnants; 48 of these were caused by Ophelia spreading wildfires in Spain and Portugal.
The three direct deaths all occurred in Ireland.
Total economic losses from the storm are estimated at close to 1 billion pounds (£ GBP).